For local lead gen sites, adding fresh content to your location pages that is relevant to that geographical area can add a lot of value for your users and is a must to avoid creating a massive number of thin gateway pages. If you're creating hundreds or thousands of location pages in WordPress via posts or a directory plugin, that update process can get really time consuming. So time consuming that maybe you choose to not add that data-driven content in the first place. The sheet.codes plugin can help you manage all of those updates in a single spreadsheet to keep your location pages fresh and valuable.
Let's use the Internet services niche as an example (sample spreadsheet).
For consumers close to a purchasing decision in the U.S., the Internet services niche is almost exclusively local intent. You need to go with a provider that has service in your area, so SERPs are filled with with local results whether your query is explicit ("internet providers charlotte nc") or implicit ("internet providers"). Therefore, location pages specific to that user's location or query win most of the search results on page 1.
There are over 3,000 cities in the U.S. with a population over 10,000 people and you can easily 5-6x that number if you want to create pages for cities and towns under 10k people.
That's a lot of pages to keep content updated on and the competition with pages in most of these high population areas isn't just slapping up 500 words of spun content anymore. Sites like broadbandnow.com, allconnect.com, highspeedinternet.com, and others are putting up custom stats, coverage and availability maps, speed data, and more to add value and depth to their pages.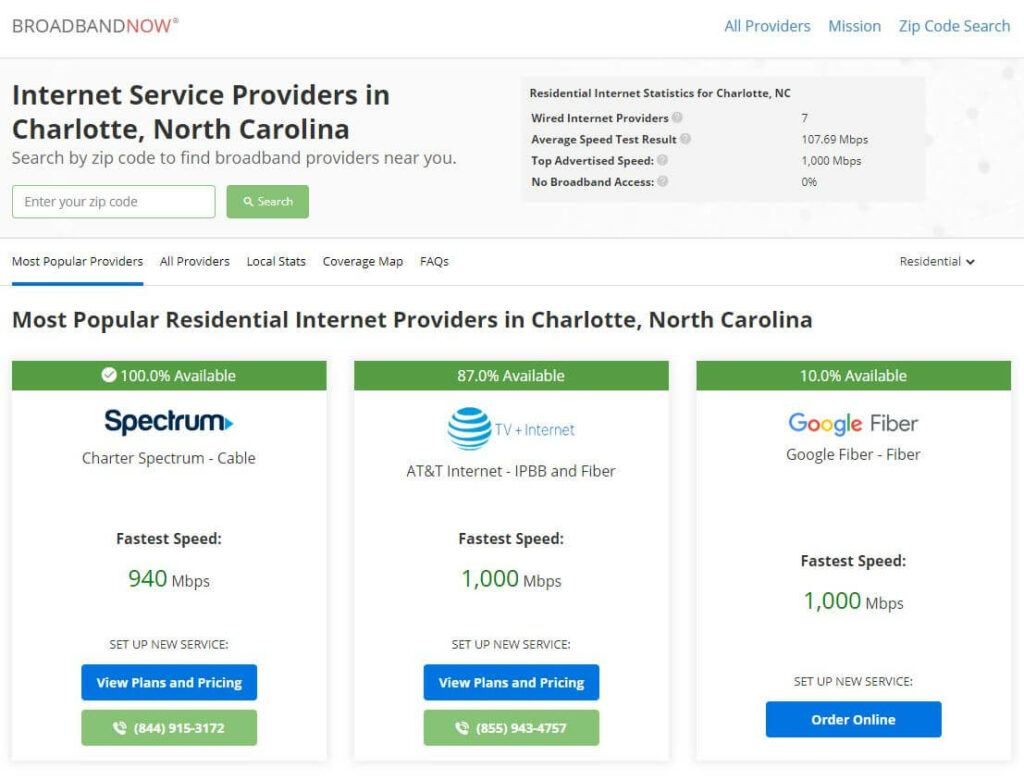 All of this data is relatively easy to aggregate. The FCC (Federal Communications Commission) requires broadband providers to report data twice a year on where they offer Internet service along with a bunch of additional information. The FCC publishes that data at broadbandmap.fcc.gov and opendata.fcc.gov where you can download everything via CSV.
Import that CSV into your Google Sheets spreadsheet, summarize it with some formulas for each of your location pages, then use sheet.codes shortcodes to display those values on your location pages.
No matter if you're in the Internet services niche or another local lead gen category, the sheet.codes plugin can give you a simple solution for managing a lot of this value-add information in a central Google Sheets spreadsheet. All you have to do is keep your spreadsheet updated with the latest data and it will push out to all your pages with shortcodes.
Have any other examples of using sheet.codes for local lead gen sites? Let me know.