To enter you license key, follow the steps below.
Navigate to the "License Key" settings menu for sheet.codes.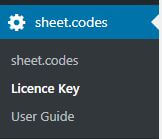 Enter a valid license key in the License Key field. You'll find your license keys in the Licenses section of your Dashboard.

Click the Save Changes button at the bottom of the settings menu. If you've entered a valid license key, you should see "active" displayed in green as shown in the screenshot above.